Five Key Areas for Building Success
Once a you, as the Dealer, make this kind of commitment to your team and your customers, your commitment becomes company policy. As such, it is not optional for an employee to follow or not follow your policy, it is mandatory. In other words, ALL employees are expected to follow this company policy every day, with every customer, without exception!
Now you must have a plan of action to implement your new company policy, monitor compliance, and measure the results of your new policy daily. Let's take a closer look at how this one dealer accomplished so much in just 90 days.
To begin with, he and his Fixed Operations Trainer held a meeting with the entire Service and Parts Team to explain to everyone what they could expect from their Training Team, as well as the goals for improving performance.
Achieving goals is certainly a Team effort, so getting the entire Team to buy in to the changes in processes required to Put their Customers FIRST, was extremely important. In making that commitment, the team focused on five key areas for improvement:
Customer Reception
Advising the Customers on maintenance requirements
Advising the Customers on the mechanical condition of their vehicles
Conducting an Active CSI Delivery of the vehicle back to the customer
Utilizing a competitive pricing structure for Customer Pay labor and parts sales.
This dealer uses appointment coordinators for all incoming service calls, allowing the Service Advisors more time with their customers at reception, and time to conduct a proper Walk-around inspection of the vehicle. Additionally, to reduce customer wait time they utilize a Greeter who initiates the write-up process, giving the Advisors even more time to spend on the walk-around, and to verify the primary items and advise on maintenance requirements and recommendations.
Refining the Process
S.M.A.R.T. (Scheduled Maintenance at Regular Times) Online Menus are presented to every customer electronically, based on time and mileage driven. This allows their Advisors to correctly advise their customers on their specific manufacturer's maintenance requirements and recommendations, as well as services based on local area driving conditions.
The menu is also printed and given to each customer with a final price quote. This process is vitally important because, when used consistently with each customer on every visit, every customer becomes trained on how to properly maintain vehicle safety and reliability.
With these processes in place, not only did sales go up, but the processes also had a profound effect on the Service Department: Technician productivity and morale increased, and since the majority of these services have been performed by "C" level technicians, the dealer is earning a higher labor gross profit margin. These all contribute to increasing Gross per RO!
Once the Advisor has properly verified the Primary Items with the customer and presented the Maintenance items, the RO is dispatched to the main shop or to Express Lube techs, who process about 40% of all customer pay RO's.
Inspect and Communicate

Every vehicle is inspected by the technicians to accurately diagnose the Primary items and complete a multi-point inspection, looking for obvious signs of needed repairs or services to insure the vehicle is safe and properly maintained. The Advisors then review the results of the Technician's findings by giving the customer a feature/benefit presentation, advising why the repair or service needs to be done TODAY.
Once all work has been completed, the vehicle is brought to a designated parking area, where the Advisor conducts and Active CSI Delivery of the vehicle back to the customer by reviewing all completed repairs and services.
It is critical during Active CSI Delivery that their Advisors make certain to explain the Three 'C's" (Condition-Cause-Correction), giving their customers a thorough understanding of what was repaired/serviced and why. Then Advisor sets the customer's next appointment and reviews the importance, of completing the upcoming CSI Survey with the "highest score possible since it is my report card."
Lastly, a key component of this Dealer's success is the competitive labor pricing grid installed by the training Team, which includes variable labor rates based upon the skill level required to complete the repair. Emphasis was placed on ensuring competitive pricing for maintenance and lower skill level repairs, in order to compete with the aftermarket – and win. The same strategy was used in developing a competitive parts pricing matrix for all customer pay work.
The Winning Combination

So, by now many of you may be wondering "Where's all the new stuff?" Well, I can honestly say that I was using all of these processes, with the exception of the Greeter and the Appointment Coordinator, when I was managing my service department in the 1970's!The reality is these processes have been proven time and again over in the 46 years I've been in this business. They provide your service customer with a higher level of service and allow us dealers to compete with the aftermarket and WIN, all while giving you a BIG PAY RAISE with higher Service Absorption and increased Gross Profit per Repair Order.
How well do think you would do if you followed all of the processes outlined here, every day with every customer? You'd probably get results like this Midwest GM dealer who really "gets it:"
Big Time Results!
• Customer Pay Labor Sales up 34%
• Customer Pay Labor Gross Profit up 44%
• Customer Pay Labor Profit Margin up 7%
• Customer Pay Parts Sales up 19%
• Customer Pay Parts Gross Profit up 19%
• Customer Pay Parts Profit Margin up 1%
• Sales Per CPRO up 60%
• Gross Per CPRO up 70%
• Hours Per CPRO up .5
• CSI @ 5 points above Zone Average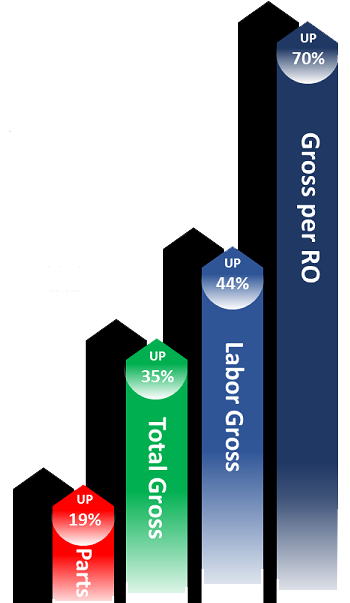 This Dealer is so committed to improving his Fixed Operations that he personally spends time each morning observing and evaluating the Customer Reception process, the Walk-around inspection process, the S.M.A.R.T. Menu presentation process, the Multi-Point Inspection process and the Active CSI Delivery process. How's that for Accountability?
Well, that commitment from him has brought him record profits in Fixed Operations with a 979% increase in Net Profits! He even finds the time to oversee his Variable Operations, who's consistently selling about 200 new and used vehicles per month. Sounds to me like he is having a record year!
You too can achieve similar results in your store by following the age old processes I've outlined for you here in this article.
It all starts with training.
Call me toll free at 1-888-553-0100
Or email dreed@dealerprotraining.com.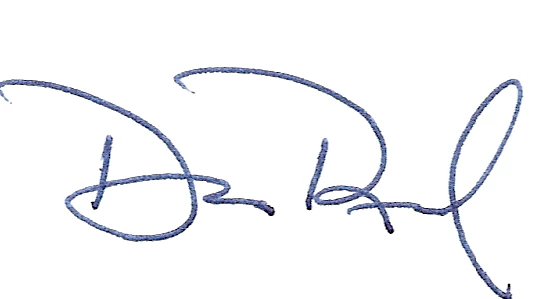 Don Reed
CEO-DealerPRO Training