Creating Opportunities
""Opportunity is missed by most people because it comes dressed in overalls and looks like work." -Thomas Edison
Opportunity abounds in today's automobile dealerships yet dealers continue to spend more and more money on advertising to generate more opportunities instead of maximizing the results on the opportunities they already have. Especially on the phone.
According to NADA, the average dealer spends from $630 up to $762 in advertising per New Vehicle Retailed, up from$448 in the year 2000. My question is: "How much money did the average dealer spend to KEEP the customers they already have?" It's called Owner Retention and the best way to RETAIN a customer is to provide them with the highest level of service possible and to always exceed their expectations. That usually begins with a phone call.
Imagine a Salesperson Flubbing a Phone Call …
Now, I want you to think about this scenario-I am one of your Salespeople and I receive an incoming call on your sales floor and it goes like this-"Hello, this is Don in Sales, how can I help you?" customer says: "Don, how much do you want for the blue 4×4 extended cab sitting out on the corner?' to which I respond: "We're asking $18,995 and it's a one owner!" customer says: "Thanks Don." (Click).
Is this an acceptable process for me to use?
If you have ever worked a day on the showroom floor I would hope your answer is an unequivocal "NO."
We don't train automobile sales people to quote prices over the phone, we train them to sell an appointment so the customer can SEE, HEAR, SMELL and FEEL that awesome one owner, low mileage, factory certified blue 4×4 extended cab as they drive it down the road.
What About Service Advisor Phone Skills?
Your customers' experiences with your Service Department … and your Service Advisors … are the key to Customer Satisfaction and Owner Retention. That being said, let's remind you of the results of research conducted by Phone Pops …
1. 81% of all your Service Customer Pay labor is coming from the phones.
2. 57% of all Service Advisors DO NOT ask the customer for an appointment.
3. 98% of all Service Advisors handle the calls in a very substandard way.
4. 95% quote higher prices than independent shops, allowing the customer to shop the competition.
Do you see any opportunities here? If your sales force generated 81% of all of your vehicle sales from the phone and 57% did not ask the customer for an appointment and 98% handled the calls in a very substandard way and 95% simply quoted prices for your vehicles on the phone allowing the customer to shop the competition, what would you do?
I believe you have two possible choices: 1) You TRAIN them how to do it right, 2) You REPLACE them. Long term you will get the highest return on your investment by TRAINING rather that creating more turnover, assuming you have someone who is willing to learn.
Creating Opportunity out of Chaos
81% of all your Service Customer Pay labor is coming from the phones.
Research shows us that for every 5 incoming calls to your Service Department, 1 results in an appointment, 3 are calling for availability and/or price and 1 is calling on the status of their vehicle.
QUESTION: If you could convert just ONE of those THREE calls for availability and/or price, to an APPOINTMENT——what would happen to your repair order count?"
The most common response I hear is: "It will go up by 100%" or "It will double." While that answer might not be mathematically correct it is pretty close because it should be around 80% if 81% of your business is already coming from the phone.
57% of all Service Advisors do not ask the customer for an appointment.
If you want to know how you're doing just ask your neighbor, mother-in-law, brother, sister or whomever to call your Service Department. What you will find is that most Advisors simply answer the customer's question and then wait for the customer to HANG UP! Your Advisor may not want to book more appointments because in his or her mind they already have too much work and they may be writing too many repair orders. If you expect your Advisors to provide your customers the best possible service they can and always exceed your customer's expectations then they should write between 12 and 15 repair orders a day.
98% of all Service Advisors handle the calls in a very substandard way.
Examples would be placing the customer on hold for prolonged periods of time, talking to a customer at their desk while on the phone with another customer, eating while talking on the phone and not listening to the customer.
These Advisors are not necessarily bad people; they just use bad processes because no one has ever trained them how to communicate effectively with your SALES OPPORTUNITIES. As a result they are not giving your customers the opportunity to say, "YES" to additional products and services.
Opportunities Abound!
Now, let's assume that your Advisors are writing 15 repair orders per day. Based on the research previously mentioned, they would then be receiving about 24 phone calls per day or 120 per week totaling about 500 per month. Compare these numbers to your average number of calls received by your average automobile salesperson and then answer these questions:
1. Who speaks to the most "SALES OPPORTUNITIES" by phone?
2. Who represents your dealership to the most "REPEAT CUSTOMERS?"
3. Who has the most impact on "OWNER RETENTION?"
4. Who has the best OPPORTUNITY to bring in "NEW CUSTOMERS?"
5. Who has the highest impact on CSI over the long term?
6. Who gets the most "PHONE TRAINING"-Advisors or Salespeople?
Opportunities abound in your Service department. They already know where you are located. They already own your product. Starting TODAY why not make it company policy that all employees provide every customer the highest level of service that they possibly can and exceed their expectations when the OPPORTUNITY presents itself.
Call me toll free at 1-888-553-0100
Or email dreed@dealerprotraining.com.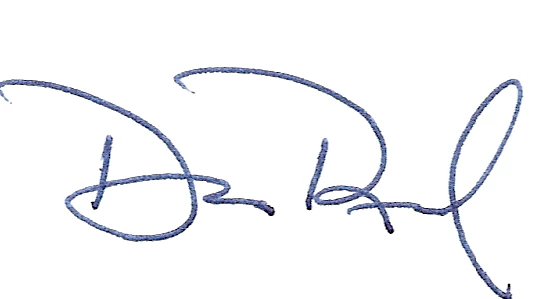 Don Reed
CEO-DealerPRO Training